Whether you love sugar snap peas, or are trying them for the first time, this guide will show you how to cook sugar snap peas through introducing a variety of simple recipes. 
Maybe you've only ever eaten sugar snap peas raw. That's great! They make a fantastic snack by themselves, and my kids would definitely agree. 
Maybe you grew sugar snap peas for the first time this year and you're wondering what to do with them all. It's a good problem to have. Growing sugar snap peas is an easy way to get started gardening, and get garden produce flowing in early in the season. 
But for every vegetable you grow, you need some recipes, and peas are no exception. 
How to cook sugar snap peas
Let's cover a few simple things you can do with your peas before moving on to more involved recipes. 
Steam them
Just fill a pan with about an inch of water, add the steamer basket with you peas, cover, and bring to a simmer for about ten minutes. That's it! You'll definitely want to sprinkle with some salt when They're done for flavor. 
Stir-fry them
You can do this by either adding them to your favorite vegetable stir fry mix, such as egg roll in a bowl, or simply by themselves. 
Just add about a tablespoon fo oil to a skillet and heat until shimmery, but not smoking. Then add about a pound of peas. Stir, or shake pan as they cook quickly for about 5 minutes. Season to taste with salt, and/or soy sauce, hot sauce, etc. 
You don't have to cook them
Raw sugar snap peas are a great addition to salads. One of my favorite salads ever contained sugar snap peas, salad mix, and dill. I wish I could find the recipe, because it really was delicious!
Here are a salad recipes featuring raw sugar snap peas:
This Sugar Snap Pea salad with feta and arugula is perfect for spring with its mixture of bright sweet and tangy flavors. 
This sugar snap pea salad takes more of an Asian twist, and I'm not made about it. This one is so simple, and delicious with its sesame soy dressing.
So now that we've covered simple ways to cook sugar snap peas and eating them raw, here are a few "big girl" recipes to start with. Each of these is still very easy, and of course, meat our criteria for deliciousness. 
I adore the combination of sautéed peas and mushrooms, so it's not surprise I would include this recipe. Give it a try and you'll see what I mean!
These sesame ginger sugar snap peas are crunchy, and packed with flavor. 
In case you haven't noticed, sugar snap peas pair well with Asian flavors, so when in doubt about how to cook sugar snap peas, try something Asian. However, we have to end with one of my all-time favorite flavor combos – garlic parmesan. I even make garlic-parmesan popcorn!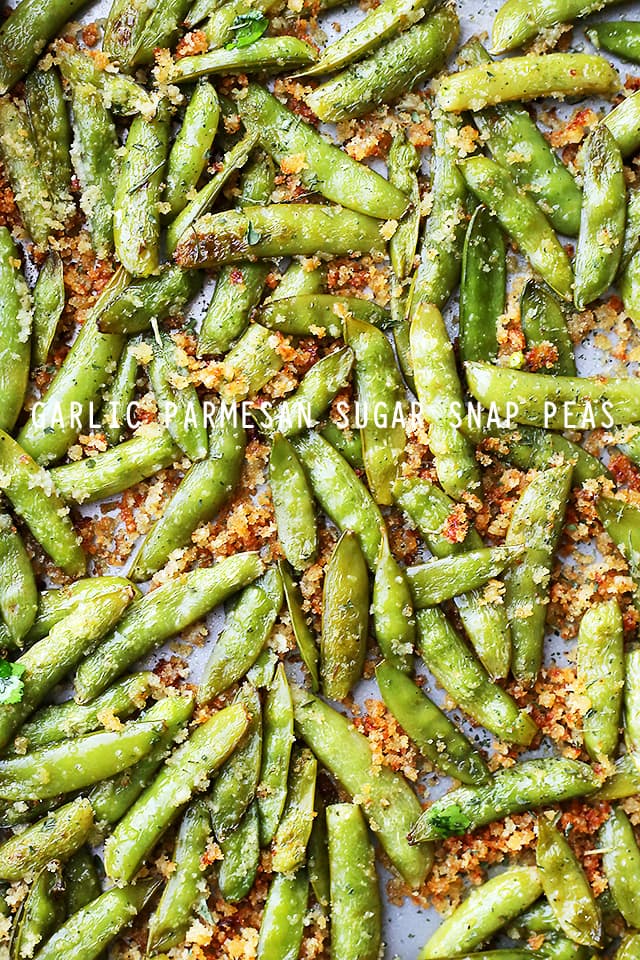 These garlic-parmesan sugar snap peas are to die for, so give them a try the next time you have peas on hand!
So, when it comes to cooking sugar snap peas, there are two main things to keep in mind: 1. you don't have to, and 2. sweet and salty, or sweet and sour combinations are key. 
These are a fantastic vegetable to have in your repertoire, and much like asparagus, are criminally underrated. So go forth and eat peas. 
Get Your Garden Cheat Sheets!
Want to know exactly when, where, and how to plant your vegetables? Sign up to get our FREE companion planting guide, and garden planting cheat sheet printable.