Are you looking for some fall salad recipes to add color, flavor, and nutrition to your meals? These are some of our very favorites around the internet.
We all know how important it is to eat veggies – especially leafy, green veggies. And we know that it's best to eat a variety of them. 
Fall is the perfect time to lean on kale or baby spinach for your greens, but don't forget that "spring greens" grow just as well in the fall as they do in the spring, which makes them perfectly acceptable fall salad material as well. We also really love adding arugula to our salad mixes. 
I love to serve a big salad with lunch, and when you have a salad like this one, with carbs like quinoa and sweet potatoes included in it, it's almost is lunch all by itself. Just add some protein!
My favorite thing about this salad though, might just be the crisp, juicy apple slices. 
We love this salad with honey-lime vinaigrette, or even paleo strawberry vinaigrette.
Something you'll see in a lot of fall salads is pecans. It makes sense! After all, if you take a walk around the city park in our town, you'll find families walking around with pails picking up fresh pecans. As fall salad recipes go, it doesn't get much more "fall" than pecans!
They're a fantastic source of Omega 3 fatty acids and help make your salad filling, as well as tasty. 
I especially love the roasted beets in this recipe. I love beets in pretty much any form, but especially roasted ones (even if my kids will only eat old-fashioned pickled beets).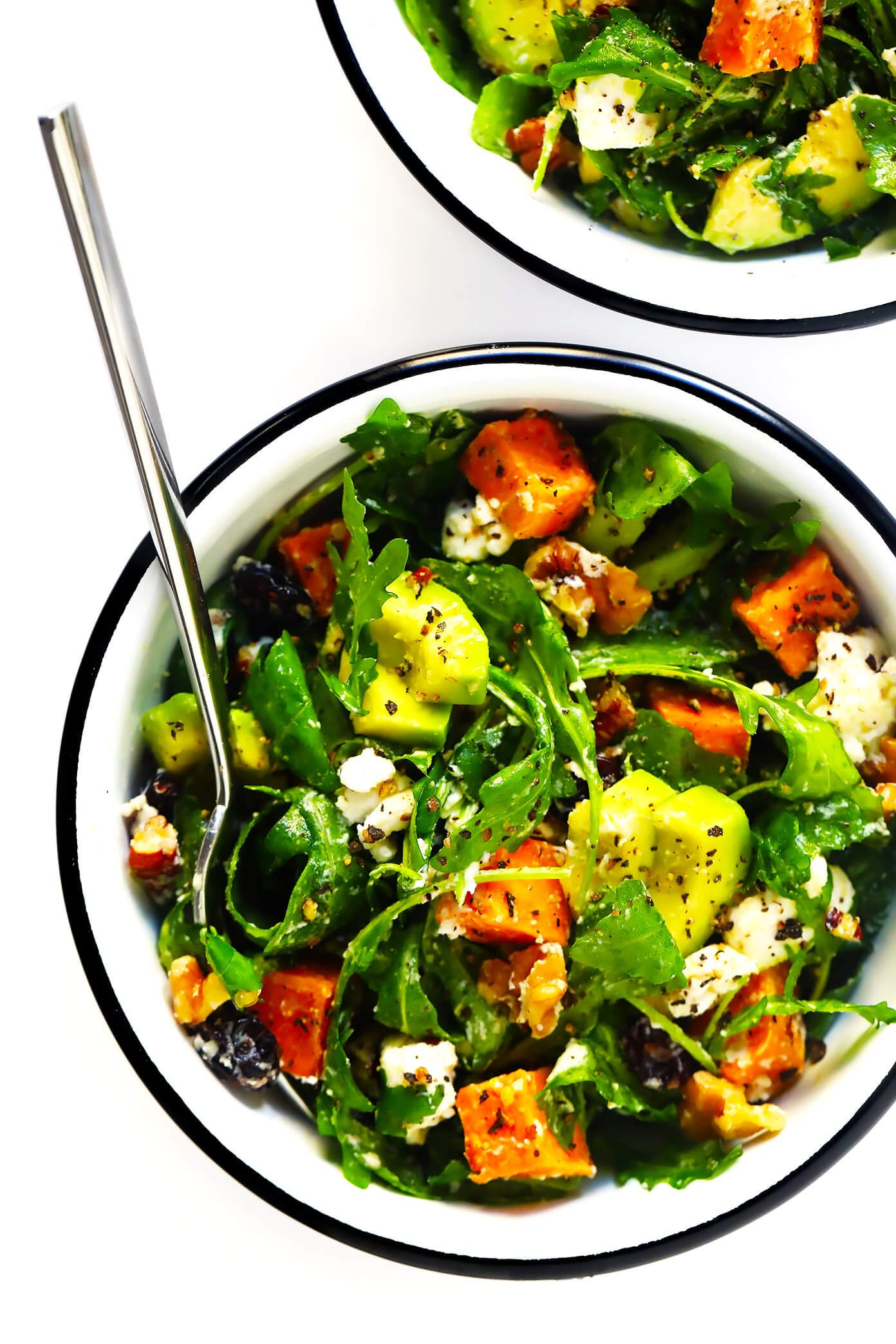 One of the best things about salads is their flexibility. Does it call for kale, but all you have is spinach? Now problem. 
What if it says to use roasted sweet potatoes, but you want to use butternut squash instead? That's a substitute you can easily make. 
This feel food fall salad recipe gives you even more substitution and variation ideas.
Last year, we grew a boatload of delicata squash and loved adding parmesan-roasted delicata squash to our meals as a side dish. it's such a creamy, mild-flavored squash, I think adding it to salad is a brilliant idea! 
Just another substitute you can make (when you aren't using this specific recipe) when a recipe calls for roasted squash or sweet potato. 
The dressing recipe in this salad is also divine, with the combination of maple syrup, apple cider vinegar, and dijon mustard.
I feel like my default protein to accompany salad is chicken, but this recipe proves that it doesn't have to be! 
Legumes are a great source of protein, and roasting chickpeas to make them crispy is a brilliant way to add texture to your salad. 
Combine the salty/crispy of chickpeas and pepitas, with the sweet juiciness of pomegranate and dried cranberries, and you have delicious variation that will make you forget you're packing your plate with nutrition. 
You can find all these salads and a lot more by visiting my salads and dressings board on Pinterest, because one thing's for sure – you can never have too many salad recipes!
Get Your Garden Cheat Sheets!
Want to know exactly when, where, and how to plant your vegetables? Sign up to get our FREE companion planting guide, and garden planting cheat sheet printable.