If you've been reading this blog for a while, you know that a few years ago, we basically had nothing going for us. We'd managed to get into a position where either we succeeded, and everything was okay, or we failed, and went into debt. In the mean time, we just didn't have any money.
I also knew at the time, with being a new mom, that I needed something other than farming to help bring an income to the family – preferably to make money from home.
I was pretty limited in what I could do from home, because not having money means not being able to pay for internet, and also not having money to drive up to the library to use the internet – even if I had been able to go to a quiet public library wth a baby.
But fortunately for me, I lived within walking distance of my mother, and she let me walk up and use her computer everyday, even though I'm pretty sure she was rolling her eyes behind my back at all my schemes to try making money from home.
Eventually, it worked though, and this website your reading has become my family's primary source of income.
Because you really can make money from home on the internet!
Let's be honest, making money from home isn't always easy. There's distracting household chore to attend to, kids ('nuff said), and our own selves to boss around (c'mon, I can't be the only one tempted to watch Netflix when I'm supposed to be formatting articles!).
But for me, and so many other moms (and dads!) it's totally worth learning how to be your own boss to get to be your own boss, set your own hours, and work from home.
But don't let anybody fool you – it is work!
Legitimate Ways to Make Money From Home
Start a blog
This one is my main source of income, and it's super inexpensive to get into. With Bluehost hosting, you can start a blog for $3-5 a month! There is no limit to the topics you can choose for your blog – just take a few minutes to think about something that you could talk (and/or write) about for hours and hours – because that's what you'll be doing. Is it a certain kind of recipes? Movies? Fashion or nail art? History? So many possibilities! You can read more about the technical aspect of starting a blog here.
Sell homemade soap, lotions, bath and body care products, or salves online
There is a huge market for handmade body care on websites like Etsy.com. It's easy to think that the market's saturated, because there's quite a pool of sellers as well, but the reality is, there is always room in every niche for quality products that stand out.
But how do you stand out? Well, let's take soap making.
There are niches within niches in the homemade soap niche. One is beautifully decorated melt and pour soap – it's more art than soap making. Another is old fashioned lye soap, or there's soap made with chemical scent oils. And still another one – the one I used to enjoy making and selling – is cold processed goat milk soap, scented with therapeutic grade essential oils. Each niche attracts a different kinds of customer, and when you realize that, the competition isn't as stiff as you first thought it was.
As you can tell I'm a huge fan of homemade soap and body care product making, and wish I still had the time for making enough soap to sell.
Other products you might think about making to sell:
Face wash
Facial scrub
Sugar scrub
Foot scrub
Lip balm
deodorant
Tooth powder or paste
Shampoo
Hand sanitizer
And endless others!
Also, think about selling in farmer's markets – even though it's not *exactly* making money from home.  Setting up a pretty display of rustic homemade soaps, lotions, and body care products is so much fun! And once costumers smell essential oil infused soaps, they're hooked!
Grow and sell garden produce
Even on a super small scale – like growing sprouts in your kitchen or micro greens under a hot cap – selling produce can be mega profitable! Folks will pay a premium for fresh, organic salad greens, and foodie produce like beets kohlrabi, or parsnips.
One of the most brilliant concepts I've seen over the last decade is selling produce "shares" – a weekly, bi-weekly, or monthly box of produce, paid for in advance by the customer. It can be a salad share, or a random produce share. Super customizable to your skills.
Become and Amazon FBA seller
You can learn all about selling on Amazon in this free email course.
Did you know that Amazon is a marketplace where individuals sell products? This includes everything from deals you scoured at Target, to ordering bulk products from manufactures and selling them at retail. Wodfitters is a great example of this. They sell branded workout gear on Amazon, but I'd bet a dollar it's all made in china at the same joint that makes all the other mini bands out there.
I'm personally highly intrigued by the idea of being an FBA seller – FBA meaning fulfilled by amazon (you ship them the stuff in bulk, they package and ship to customers, so you can literally earn money while you sleep!), but just haven't had time to try – it's on my bucket list.
If that intrigues you at all, click here to learn more from a family who makes their living doing it.
Sell Printables On Etsy
This is particularly great because it can create passive income, and as a stay at home mom, that's definitely the best kind!
I personally sell planners such as a meal planning binder, as well as a finance planning binder and garden planner.
But there are so many more types of printables to sell! Listen to this free workshop to learn more about how to do it.
Become a virtual assistant
A VA is someone who assists with online tasks like posting to social media accounts, creating or editing copy, photo editing, and frankly, almost anything that goes into running an online business. You may have never considered that you have web skills, but anyone can learn how to effectively post on social media! The big upside is that you almost always get to set your own hours, and get to be your own boss to a large extent.
If you're unsure what services you could offer, download this free list of 150+ VA service ideas.
Also see How To Become a Virtual Assistant.
Sell your knitting or Crochet work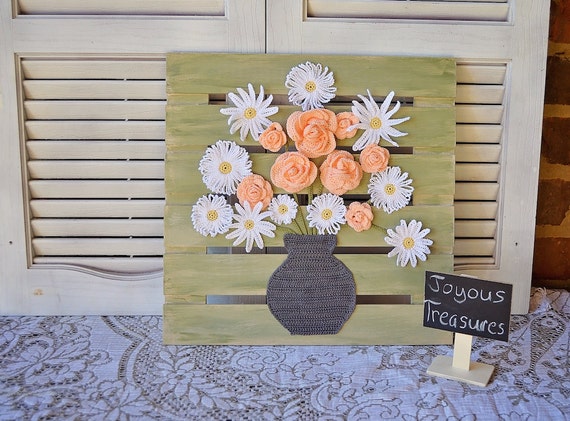 If you love handiwork, turn it into profit! My sister sells beautiful, delicate crocheted flower bookmarks and crochet patterns on Etsy. It's a very niched market, and yet, they do sell! Even though she mostly abandoned the shop for a few years after our mother died unexpectedly.
Crochet is not a thing of the past!
Baking/Candy-making
If you live in a state where it's legal, having a home bakery can be super awesome! I made a wedding cake when my oldest was a very cranky 7 week old, and I certainly wouldn't recommend that, but if that's the worst that happens, it's a pretty good niche to get into! Especially around the holidays, people are looking for someone to make homemade cookies, candy and other goodies for them. I love both baking and candy making, and would do it all day every day if I could (too bad it's not legal to sell home baked goods here in Texas!)
You could go in many directions with a home baking/cooking business, niching into allergy-friendly, healthy, or a paleo direction depending on your interests or where you live, which could allow you to charge a premium for your goodies.
Help Moms By Sharing Healthy Convenience Food
Several months ago, I got talked into trying this thing called Thrive Life. I was in it for the convenience of freeze-dried food that was healthy(!) for those busy nights, but after I tasted it, I couldn't help telling all my friends about it, and getting them to taste it – especially when I turned around and saw my kids snacking on vegetables and loving them!
My point it, you don't sell Thrive life, Thrive Life sells itself. It's just that good! It's one of the few multi-level marketing business you can feel 100% comfortable doing even if you're not a salesy person. It helps moms put healthy, tasty food on the table, and it can help them stretch their budgets too!
None of these business ideas will make you rich overnight – they're legitimate ways to make money from home. They're businesses, and like any business they take time.
And it is so worth getting to work from home!
Learn All The Tricks!
Enter your email for instant access to our Ultimate list of blogging resources!