Its that time of year again. The February blahs. Is winter over yet? That'd be a no.
It's too cold and dreary to be outside, and one can only pick up their children's toys so many times before feeling like you're stuck in Ground Hog Day. Even huddling under a blanket gets old after a while. So I wanted to follow up Wednesday's post on indoor toddler activites with some useful, practical, but fun activities for us older folks.
Remember this one thing: you're never too old to learn. Never. You know the saying "use it or lose it"? That applies to your brain, age notwithstanding.
So, here are a few things to get started on before warm weather finally returns: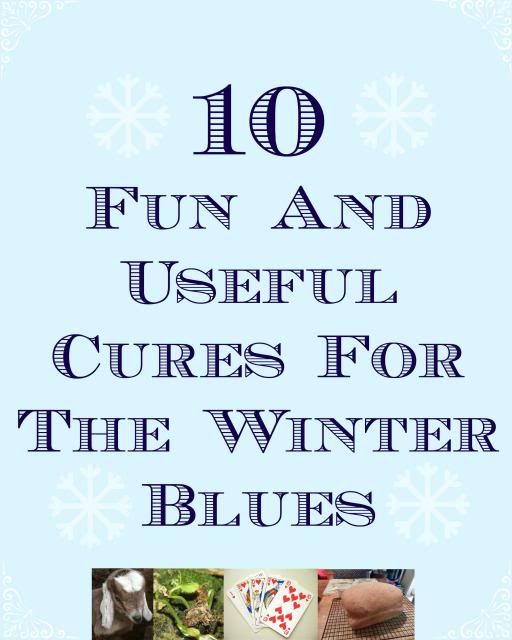 Ten Cures For The Winter Blues


 Learn to crochet/knit. The basic stitches are easy enough, and once you learn them, you can challenge yourself with more and more complicated patterns, and build a stash of things. These make great gifts! Last winter, I made a bunch I baby booties and hats for my expecting friends.
 Bust out the sewing machine. Alter, repair, finish – maybe even start some new projects. If you don't know what you're doing (I'm still in seamstress kindergarten myself), try looking up sewing tutorials online. What's the 'net there for if not to learn? Here again, you can turn out some unique handmade gifts for baby showers, wedding, birthdays – or whatever occasion you can think of!
Learn a new language. This may seem like a daunting task, but if you have someone to practice new words with, it can be a lot of fun. If you have kids, learning a new language is especially great. Teach 'em while they're young!
 Master your body weight. You know I had to put something fitness related in here. Can you perform strict push-ups? how about handstands or one-legged squats? or Most of us have a few feet of room in our living rooms, bedroom, or hallway to do these things, and it's a great way to get your heart pumping, and make you feel sooo much better. Check out this video for inspiration. It's insane.
 Learn to play an instrument. You can usually rent a beginner's instrument at a music store, and most libraries have "teach yourself" books.
 Start some seeds indoors. Got a sunny window? Use it! Grow a tray full of micro greens to add to your salad.
 Plan your garden. Have you started getting seed catalogs in the mail? We have! It's so much fun to go through them and plan what you want to grow this spring and summer! Looking at all the colorful summery pictures is also a nice reprieve from dreary gray February skies.
 Bake bread for all your neighbors for no reason. They'll be shocked – and pleased. And it may go a long way toward curing someone else winter blues.
 Rescue an orphaned animal. Cats, dogs, goats… Yes, for real. With goat herds beginning to kid, I'm sure craigslist will soon be popping with orphaned goat ads. If you have time and patience, you could rescue a baby goat and raise it in milk replacer from the local farm store. Perhaps you can make an arrangement with the goat farm to take/buy it back when it's weaned. Seem like a weird idea? I agree that it's a bit off the wall, but I think it'd be an awesome project for school-age kids (human kids, that is).
 Play games. Games are an excellent way to spend meaningful time together as a family combining fun, and conversation. Some of our favorties are Mexican Train, Rummy, Mille Bornes , and Yahtzee.
Those are just a few things to get you started. Once you get going, the possibilities are endless! For some great tips on beating the winter blues through personal care, click over to How To Cure Cabin Fever on Fresh Modesty. Or check out this really fun list on The I Love You's.
Well, what do you think? Do any of these ideas appeals to you? What would you add?
Get The $20 Meal Plan Printable!
Want the printable version of this $20 plan? Sign up to get it WITH a complete shopping list, and meal prep instructions!