Who doesn't love jewelry? I know I do!
But what if, by buying a necklace, you were actually funding a mission trip to Russia?
That's exactly what happens when you make a purchase from Rachel Casey's Etsy shop!
I've known Rachel since before her teen years, and have been continuously blown away by her family's generosity, kindness, and willingness to open up their home and their lives to people in need.
Specifically little people. Orphans, to be exact.
Ever since Rachel's first trip to Russia, to pick up her sister-to-be from a children's home, she's had a desire to go back and help in some way, and now, several year, and three adoptions later, she's getting that chance!
You can be a part of it!
I don't know about you, but I'd much rather pay good money for something that's well made, and supports a good cause, than go for the cheap stuff.
I know that a lot of us don't have the luxury of a jewelry budget 😉 and that's okay!
Just by entering this giveaway, not only do you have a chance to win your choice of necklace from Rachel's Etsy shop, you're helping support her cause!
Every time you favorite her shop, follow and like or comment on her Instagram photos, or share share this giveaway on Facebook, Pinterest, or Twitter, you're helping get the word out and giving other people a chance to help too!
So, how about these awesome necklaces?
Rachel makes her jewelry by hand, using sturdy chain, with metal, and glass pendants.
I love how heavy these necklaces are! I don't often wear jewelry (other than my wedding ring, and earrings) because a certain toddler of mine is way too grabby. But these necklaces are sturdy enough to withstand even her tugs and pulls.
Currently there are over twenty items to choose from, from coffee and chocolate lovers jewelry, to epic quotes, to picture lockets. Go check them out!
My favorite? If you know me, you know it's TENNESSEE! I'll always be a Tennessee girl!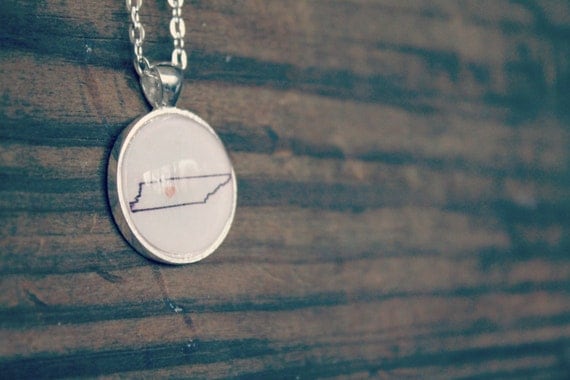 Giveaway Rules:
Sign in on the widget.
complete entries! 
The winner will be picked at random on April 4th, and will be contacted by email, so keep your eyes peeled!