Ah, winter. It's cold, dreary, and gray outside – there's not even any snow to play in.
What's a toddler to do to keep from losing his mind (Or more likely, to keep their parents from losing theirs)?
I'm not one of those moms that has a box full of busy bags, or an endless supply of pipe cleaners on hand waiting for craft time. I guess those things come with experience, and in my defense, I've only had this mom job for less than three years.
So these indoor activites for toddlers use nothing more than what you probably already have in your house, and though some of them really are best if played with a few toys added to the mix, I'm going to assume your child is't completely toyless, and that that isn't a problem.
So behold, some of Garrett's (read: boy) favorite playtime activities:
Beans on a cookie sheet. Add a few construction toys, a d this keeps him busy for hours. I'm sure that this is partly due to one of his favorite books, Easy Street. "Use big rocks (or beans), chop chop chop, fill a dump truck to the top".
Rice. Pretty  much the same as the beans, except that rice is so much eaiser to load with a backhoe. Obviously, little girls might prefer measuring cups and spoons over the trucks and tractors. Or if you're really adventurous, use…
Dirt. Before the whole bean idea, I caught Garrett digging in my seedlings with a toy backhoe, so I brought in a cup full of dirt from the compost pile (the only diet that wasnt frozen so hard that I couldn't get into it). If you don't mind a bit of a mess, this is a really great idea!
Playdough. This is kind of a twofer, because kids love to help make it, and then they get to play with it. We made our own baking soda Playdough and love it!
Pasta and string. who doesn't love to make pasta necklaces, right? You can vary the size of the pasta, from macaroni, all the way up to manicotti depending on your child's motor skills.
Tong, toys, and a bowl (or sink, or bathtub) of water. Why is pulling things out of water with tong so fun? I don't know, but then, I'm not a toddler, and toddlers seem to love it!
paper airplanes. He can't make them himself of course, but if I make one for him, he'll spend and hour or more flying and throwing it around!
Bubbles. You probably think of blowing bubbles as a summertime outdoor thing. Not so! Garrett loves bubbles, and at his age, he does best in the house where I can supervise him. It's loads of fun!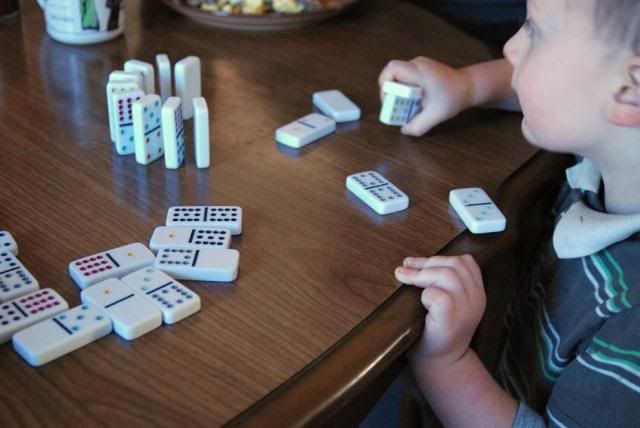 Bonus activity: Dominoes! My little brother left a box of dominoes over here last week, and Garrett loves them! He sits at the table and plays with them like building blocks, sorts them by color, and tries to set up chains to knock over. In fact, that's what he's doing right now as I type.
Those are our top eight activites. Some things I want to try are moonsand, and if we had stairs in our home, I would totally do the cardboard box stair-slide thing – and then slide down it myself.
Get Your Garden Cheat Sheets!
Want to know exactly when, where, and how to plant your vegetables? Sign up to get our FREE companion planting guide, and garden planting cheat sheet printable.